Page 235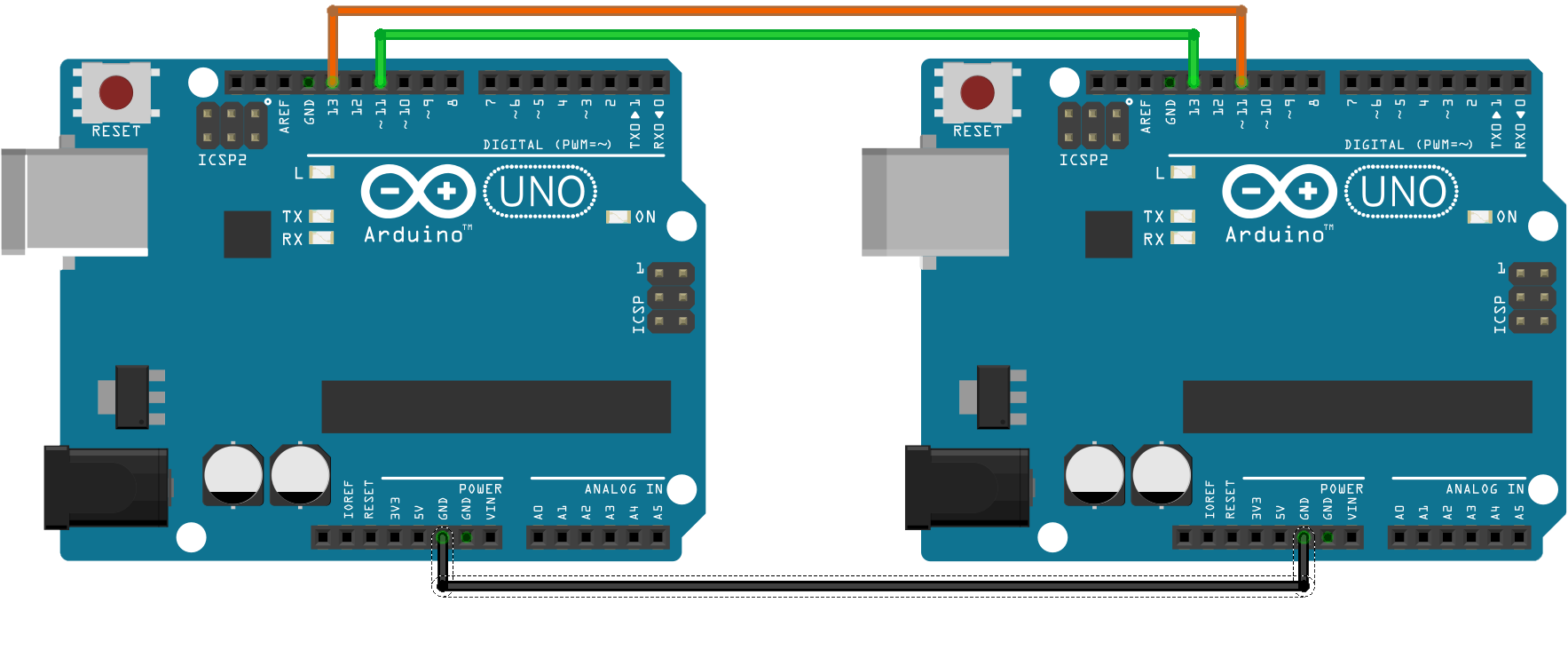 Page 236 - teletype emulation
#include <SoftwareSerial.h>




#define RX_PIN 11




#define TX_PIN 13




SoftwareSerial serialT

(

RX_PIN

,

 TX_PIN

);

 

// new serial object




char

 buff

[

80

];




byte bufPos 

=

 

0

;




void

 setup

()

 

{




  Serial

.

begin

(

115200

);




  serialT

.

begin

(

300

);

 

// Choose something more sensible




  delay

(

1000

);




  serialT

.

println

(

"Ready?"

);




  serialT

.

println

(

"10 PRINT \"HELLO WORLD\""

);




  serialT

.

println

(

"20 GOTO 10"

);




  serialT

.

println

(

"30 END"

);




  serialT

.

println

(

"RUN"

);




}




void

 loop

()

 

{




  

char

 nChar

;




  

if

(

serialT

.

available

()){




    nChar 

=

 serialT

.

read

();




    

if

(

nChar 

==

 

'\r'

 

||

 nChar 

==

 

'\n'

)

 

{




      

if

(

bufPos 

>

 

0

)

 

{




        Serial

.

println

(

buff

);




      

}




      bufPos 

=

 

0

;




      memset

(

buff

,

 

'\0'

,

 

80

);

 

// clear buffer




    

}

 

else

 

{




      buff

[

bufPos

]

 

=

 nChar

;




      bufPos

++;




    

}




  

}




}



Pages 236 and 237 - PDP emulation
#include <SoftwareSerial.h>




#define RX_PIN 11




#define TX_PIN 13




SoftwareSerial serialT

(

RX_PIN

,

 TX_PIN

);

 

// new serial object




char

 buff

[

80

];




byte bufPos 

=

 

0

;




void

 setup

()

 

{




  Serial

.

begin

(

115200

);




  serialT

.

begin

(

300

);

 

// Choose something more sensible




  delay

(

1000

);




  serialT

.

println

(

"Ready?"

);




  serialT

.

println

(

"10 PRINT \"HELLO WORLD\""

);




  serialT

.

println

(

"20 GOTO 10"

);




  serialT

.

println

(

"30 END"

);




  serialT

.

println

(

"RUN"

);




}




void

 loop

()

 

{




  

char

 nChar

;




  

if

(

serialT

.

available

()){




    nChar 

=

 serialT

.

read

();




    

if

(

nChar 

==

 

'\r'

 

||

 nChar 

==

 

'\n'

)

 

{




      

if

(

bufPos 

>

 

0

)

 

{




        Serial

.

println

(

buff

);




      

}




      bufPos 

=

 

0

;




      memset

(

buff

,

 

'\0'

,

 

80

);

 

// clear buffer




    

}

 

else

 

{




      buff

[

bufPos

]

 

=

 nChar

;




      bufPos

++;




    

}




  

}




}



page 240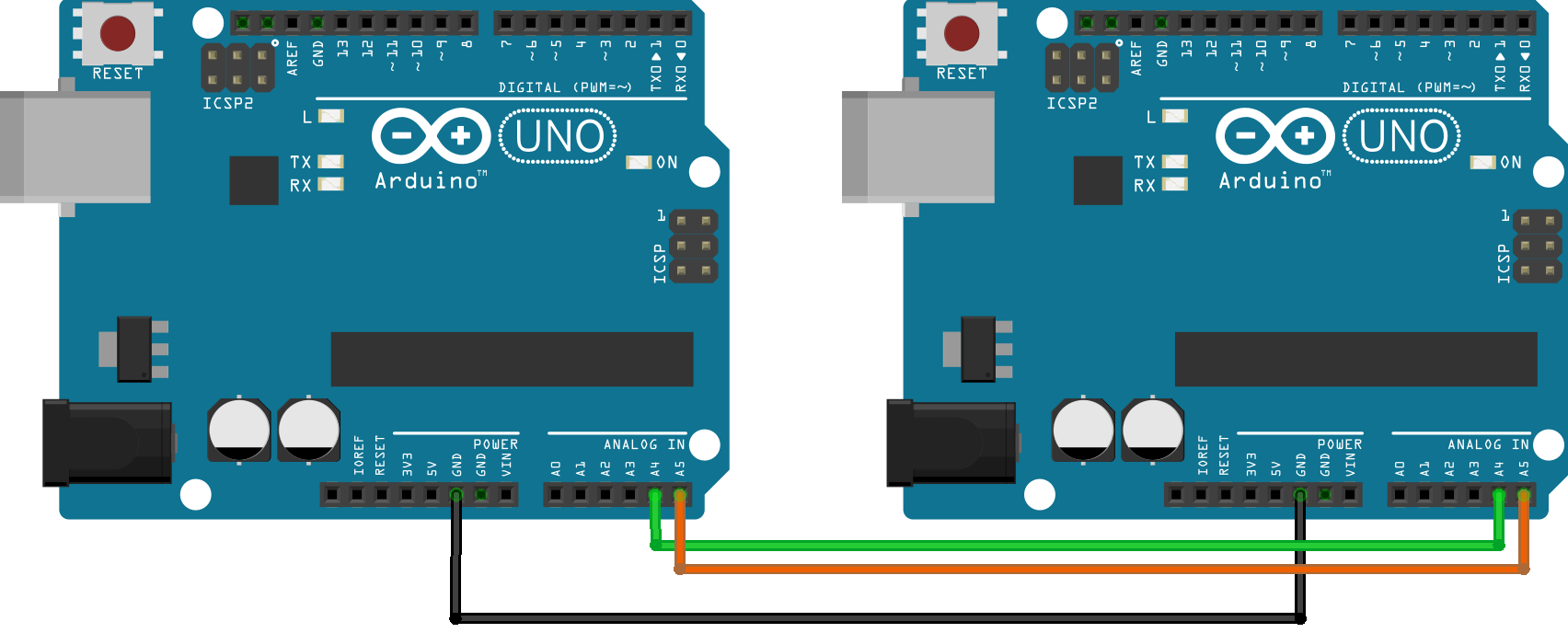 Page 241 - master
#include <Wire.h>




#define SLAVE_ADDRESS 42




int

 reqPin 

=

 

1

;




void

 setup

()

 

{




  Serial

.

begin

(

115200

);




  Wire

.

begin

();

        




}




void

 loop

()

 

{




  

int

 remoteVal

;




  Wire

.

beginTransmission

(

SLAVE_ADDRESS

);




  Wire

.

write

(

reqPin

);

 

// sends low order byte




  Wire

.

endTransmission

();




  Wire

.

requestFrom

(

SLAVE_ADDRESS

,

 

2

);




  

while

(

Wire

.

available

())

 

{




    byte bl 

=

 Wire

.

read

();

 

// read low byte




    byte bh 

=

 Wire

.

read

();

 

// read high byte




    remoteVal 

=

 bh

;




    remoteVal 

=

 remoteVal 

<<

 

8

;




    remoteVal 

+=

 bl

;




  

}




  Serial

.

print

(

"Analog pin "

);




  Serial

.

print

(

reqPin

);




  Serial

.

print

(

" value: "

);




  Serial

.

println

(

remoteVal

);




  reqPin

++;




  

if

(

reqPin 

>

 

3

)

 

{

reqPin 

=

 

1

;}




  delay

(

1000

);




}



Pages 242 - slave
#include <Wire.h>




#define I2C_ADDRESS 42




int

 reqVal

;




void

 setup

()

 

{




  Serial

.

begin

(

115200

);




  Wire

.

begin

(

I2C_ADDRESS

);




  Wire

.

onReceive

(

receiveData

);




  Wire

.

onRequest

(

sendData

);




}




void

 loop

()

 

{




  

// This Arduino can be doing many other things here




}




void

 receiveData

(

int

 byteCount

){




  

while

(

Wire

.

available

())

 

{




    reqVal 

=

 Wire

.

read

();




  

}




}




void

 sendData

()

 

{




  

int

 retVal 

=

 

0

;




  

switch

(

reqVal

)

 

{




    

case

 

1

:




      retVal 

=

 analogRead

(

A1

);




      

break

;




    

case

 

2

:




      retVal 

=

 analogRead

(

A2

);




      

break

;




    

case

 

3

:




      retVal 

=

 analogRead

(

A3

);




      

break

;




  

}




  Serial

.

println

(

retVal

);




  Wire

.

write

(

retVal

);




  retVal 

=

 retVal 

>>

 

8

;




  Wire

.

write

(

retVal

);




}



I2C Projects
I used an I2C interface to communicate with a module created from an HC-SR04 ultrasonic sensor sitting on top of a 9g servo motor.
This sonar scanner was controlled by an Arduino Nano running a software state machine. The module was operated and interrogated from another Arduino over an I2C master/slave link.
The mini project was covered by two blog posts. Part 1 developed the sonar module and part 2 saw the I2C link to a controlling Arduino.
Page 244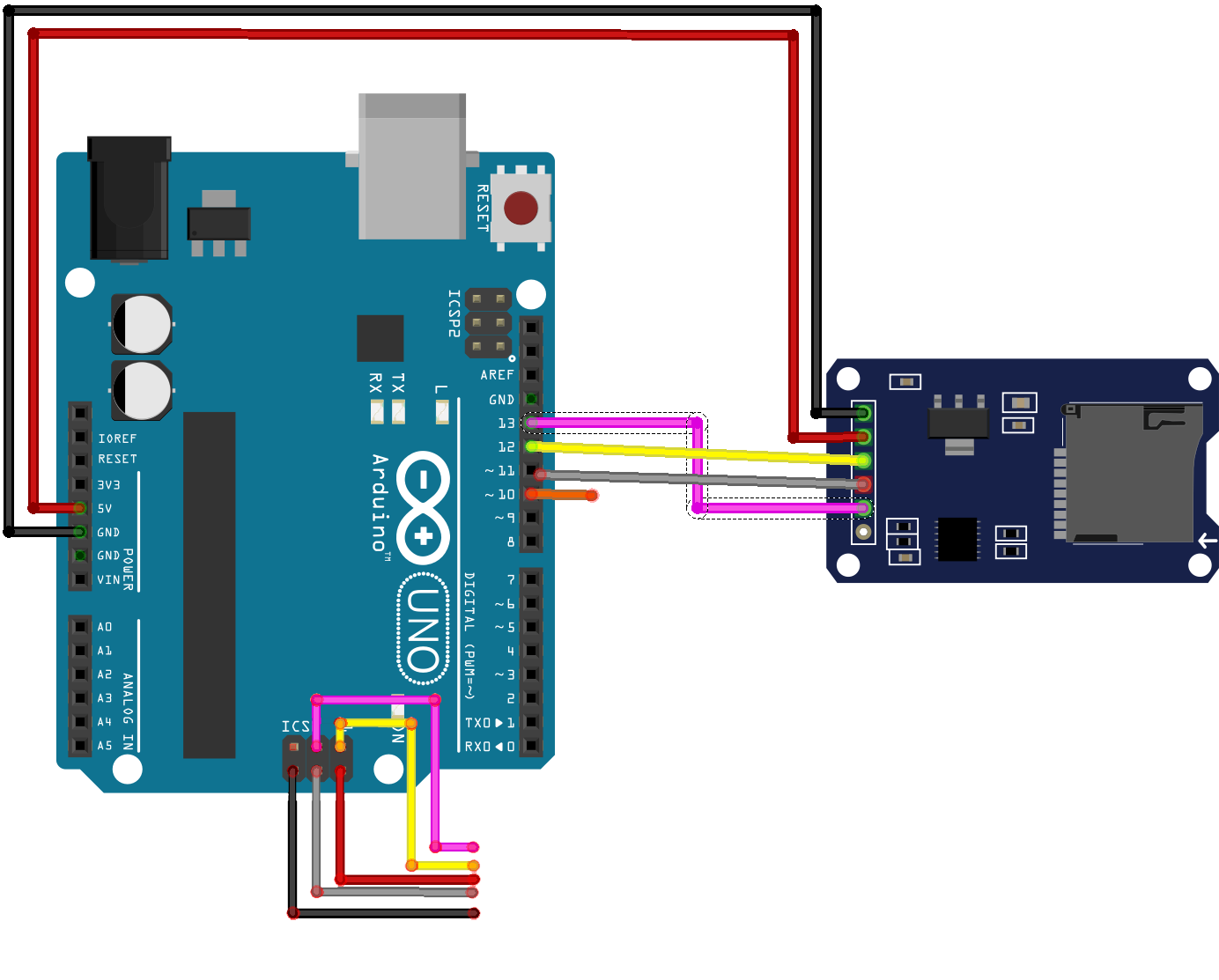 Pages 245 and 246
#include <SPI.h>




#include <SD.h>




struct

 ddata

{




  

float

 area

;




  

unsigned

 

long

 time

;




  

int

 val

;




}

 demo 

=

 

{

22145.679

,

 

45871298

,

 

-

32766

};




union

 dbytes

{




  

struct

 ddata data

;




  byte bytes

[

10

];




}

 going

,

 coming

;




void

 setup

()

 

{




  Serial

.

begin

(

115200

);




  going

.

data 

=

 demo

;




  

if

 

(!

SD

.

begin

())

 

{




    Serial

.

println

(

"Card failed, or not present"

);




     

return

;




  

}




  

if

(

SD

.

exists

(

"datatest.dat"

)){




    SD

.

remove

(

"datatest.dat"

);

 

// start with a new file




  

}




  Serial

.

println

(

"Creating File"

);




  File dataFile 

=

 SD

.

open

(

"datatest.dat"

,

 FILE_WRITE

);




  

if

(

dataFile

)

 

{




    dataFile

.

write

(

going

.

bytes

,

 

10

);




    dataFile

.

close

();




  

}

 

else

 

{




    Serial

.

println

(

"Error opening file"

);




    

return

;




  

}




  

if

(

SD

.

exists

(

"datatest.dat"

))

 

{




    dataFile 

=

 SD

.

open

(

"datatest.dat"

,

 FILE_READ

);




    

if

(

dataFile

)

 

{




      dataFile

.

read

(

coming

.

bytes

,

 

10

);




      dataFile

.

close

();




      

if

(

coming

.

data

.

area 

==

 demo

.

area

)

 

{




        Serial

.

print

(

coming

.

data

.

area

,

 

3

);




        Serial

.

println

(

": Area checked"

);




      

}




      

if

(

coming

.

data

.

time 

==

 demo

.

time

)

 

{




        Serial

.

print

(

coming

.

data

.

time

);




        Serial

.

println

(

": Time checked"

);




      

}




      

if

(

coming

.

data

.

val 

==

 demo

.

val

)

 

{




        Serial

.

print

(

coming

.

data

.

val

);




        Serial

.

println

(

": Int val checked"

);




      

}




    

}

 

else

 

{




      Serial

.

println

(

"Error reopening File"

);




    

}




  

}

 

else

 

{




    Serial

.

println

(

"Where is the File?"

);




  

}




}



Page 248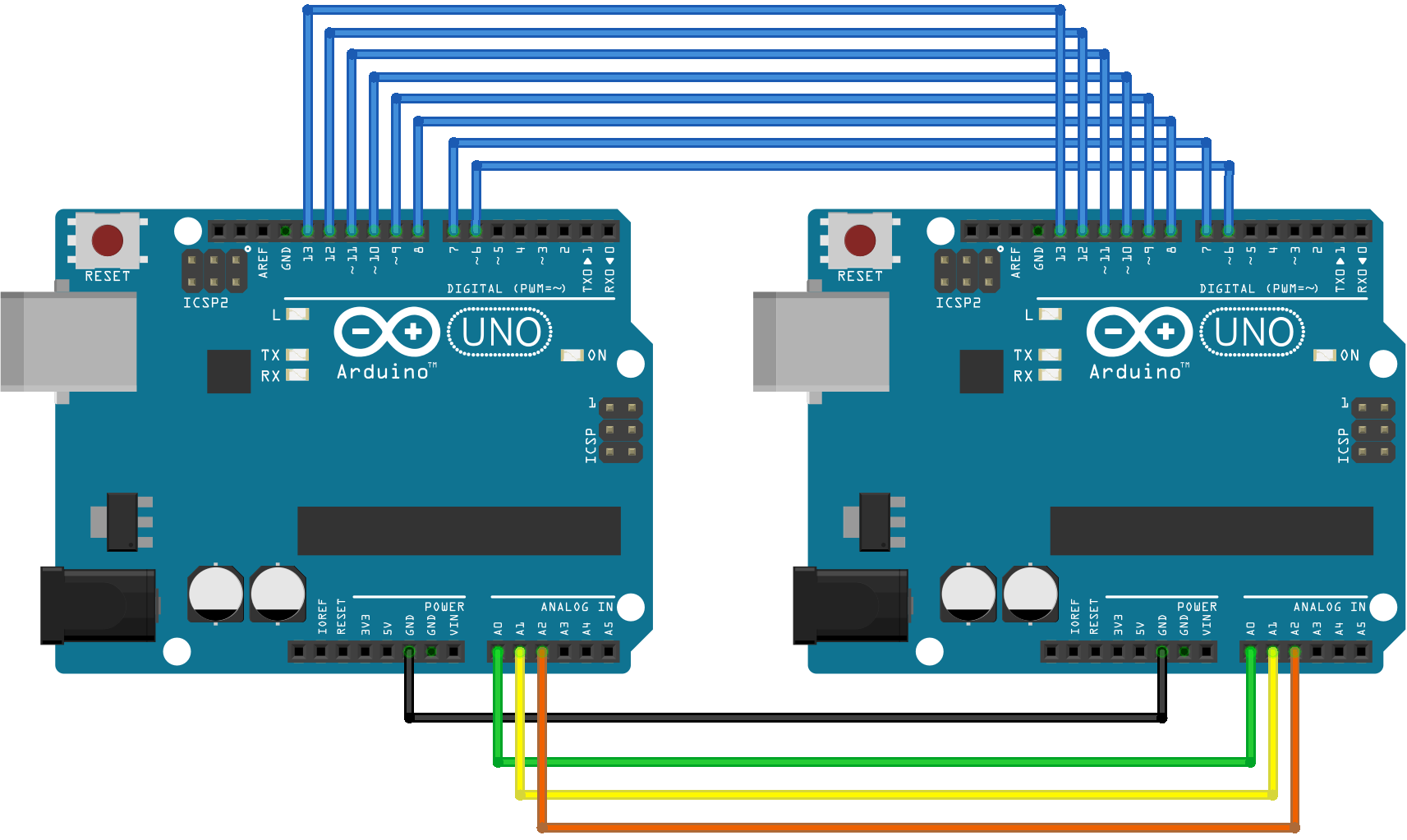 Pages 248 and 249
#define data0 6




#define data1 7




#define data2 8




#define data3 9




#define data4 10




#define data5 11




#define data6 12




#define data7 13




#define strobe A0




#define ack A1




#define busy A2




char

 testMessage

[]

 

=

 

"HELLO PARALLEL WORLDS"

;




void

 setup

()

 

{




  pinMode

(

strobe

,

 OUTPUT

);




  digitalWrite

(

strobe

,

 HIGH

);




  pinMode

(

ack

,

 INPUT_PULLUP

);




  pinMode

(

busy

,

 INPUT_PULLUP

);




  pinMode

(

data0

,

 OUTPUT

);




  pinMode

(

data1

,

 OUTPUT

);




  pinMode

(

data2

,

 OUTPUT

);




  pinMode

(

data3

,

 OUTPUT

);




  pinMode

(

data4

,

 OUTPUT

);




  pinMode

(

data5

,

 OUTPUT

);




  pinMode

(

data6

,

 OUTPUT

);




  pinMode

(

data7

,

 OUTPUT

);




}




void

 loop

()

 

{




  

for

(

int

 i 

=

 

0

,

 j 

=

 strlen

(

testMessage

);

 i 

<

 j

;

 i

++)

 

{




    writeByte

(

testMessage

[

i

]);




  

}




  writeByte

(

'\n'

);




  delay

(

3000

);




}




void

 writeByte

(

byte b

){




  

while

(

digitalRead

(

busy

)

 

==

 HIGH

)

 

{




    

// wait a bit




  

}




  digitalWrite

(

data0

,

 b 

&

 

1

);




  digitalWrite

(

data1

,

 b 

&

 

(

1

 

<<

 

1

));




  digitalWrite

(

data2

,

 b 

&

 

(

1

 

<<

 

2

));




  digitalWrite

(

data3

,

 b 

&

 

(

1

 

<<

 

3

));




  digitalWrite

(

data4

,

 b 

&

 

(

1

 

<<

 

4

));




  digitalWrite

(

data5

,

 b 

&

 

(

1

 

<<

 

5

));




  digitalWrite

(

data6

,

 b 

&

 

(

1

 

<<

 

6

));




  digitalWrite

(

data7

,

 b 

&

 

(

1

 

<<

 

7

));




  digitalWrite

(

strobe

,

 LOW

);




  

while

(

digitalRead

(

ack

)

 

==

 HIGH

)

 

{




    

//wait for acknowledge




  

}




  digitalWrite

(

strobe

,

 HIGH

);




}



Page 250 and 251
#define data0 6




#define data1 7




#define data2 8




#define data3 9




#define data4 10




#define data5 11




#define data6 12




#define data7 13




#define strobe A0




#define ack A1




#define busy A2




void

 setup

()

 

{




  Serial

.

begin

(

115200

);




  pinMode

(

strobe

,

 INPUT

);




  pinMode

(

ack

,

 OUTPUT

);




  digitalWrite

(

ack

,

 HIGH

);




  pinMode

(

busy

,

 OUTPUT

);




  digitalWrite

(

busy

,

 HIGH

);




  pinMode

(

data0

,

 INPUT

);




  pinMode

(

data1

,

 INPUT

);




  pinMode

(

data2

,

 INPUT

);




  pinMode

(

data3

,

 INPUT

);




  pinMode

(

data4

,

 INPUT

);




  pinMode

(

data5

,

 INPUT

);




  pinMode

(

data6

,

 INPUT

);




  pinMode

(

data7

,

 INPUT

);




}




void

 loop

()

 

{




  readByte

();




}




byte readByte

()

 

{




  digitalWrite

(

ack

,

 HIGH

);




  

while

(

digitalRead

(

strobe

)

 

==

 HIGH

){




    digitalWrite

(

busy

,

 LOW

);




  

}




  digitalWrite

(

busy

,

 HIGH

);




  byte b 

=

 digitalRead

(

data0

)

 

+




      

(

digitalRead

(

data1

)

 

<<

 

1

)

 

+




      

(

digitalRead

(

data2

)

 

<<

 

2

)

 

+




      

(

digitalRead

(

data3

)

 

<<

 

3

)

 

+




      

(

digitalRead

(

data4

)

 

<<

 

4

)

 

+




      

(

digitalRead

(

data5

)

 

<<

 

5

)

 

+




      

(

digitalRead

(

data6

)

 

<<

 

6

)

 

+




      

(

digitalRead

(

data7

)

 

<<

 

7

);




  digitalWrite

(

ack

,

 LOW

);




  delay

(

5

);

 

// hold ack LOW for a bit




  Serial

.

print

((

char

)

b

);




}



Page 252
void

 setup

()

 

{




#ifdef USE_PORTS




  DDRC 

&=

 

((

1

 

<<

 DDC1

)

 

|

 

(

1

 

<<

 DDC2

));

 

// A1 & A2 INPUT




  DDRC 

|=

 

(

1

 

<<

 DDC0

);

 

// A0 output




  PORTC 

|=

 

((

1

 

<<

 PORTC1

)

 

|

 

(

1

 

<<

 PORTC2

));

 

//A1 & A2 PULLUP




  DDRB 

|=

 B00111111

;

 

// D8 -D13 set for OUTPUT




  DDRD 

|=

 B11000000

;

 

// D6 & D7 for OUTPUT




#else




  pinMode

(

strobe

,

 OUTPUT

);




  digitalWrite

(

strobe

,

 HIGH

);




  pinMode

(

ack

,

 INPUT_PULLUP

);




  pinMode

(

busy

,

 INPUT_PULLUP

);




  pinMode

(

data0

,

 OUTPUT

);




  pinMode

(

data1

,

 OUTPUT

);




  pinMode

(

data2

,

 OUTPUT

);




  pinMode

(

data3

,

 OUTPUT

);




  pinMode

(

data4

,

 OUTPUT

);




  pinMode

(

data5

,

 OUTPUT

);




  pinMode

(

data6

,

 OUTPUT

);




  pinMode

(

data7

,

 OUTPUT

);




#endif




}



Page 253
void

 writeByte

(

byte b

){




#ifdef USE_PORTS




  

while

(

PINC 

&

 B00000100

){

 

// while busy HIGH




  

}




#else




  

while

(

digitalRead

(

busy

)

 

==

 HIGH

)

 

{




    

// wait a bit




  

}




#endif




#ifdef USE_PORTS




  byte regCpy 

=

 

(

PORTB 

>>

 

6

);




  PORTB 

=

 

(

regCpy 

<<

 

6

)

 

|

 

(

b 

>>

 

2

);




  regCpy 

=

 

(

PORTD 

<<

 

2

);




  PORTD 

=

 

(

regCpy 

>>

 

2

)

 

|

 

(

b 

<<

 

6

);




#else




  digitalWrite

(

data0

,

 b 

&

 

1

);




  digitalWrite

(

data1

,

 b 

&

 

(

1

 

<<

 

1

));




  digitalWrite

(

data2

,

 b 

&

 

(

1

 

<<

 

2

));




  digitalWrite

(

data3

,

 b 

&

 

(

1

 

<<

 

3

));




  digitalWrite

(

data4

,

 b 

&

 

(

1

 

<<

 

4

));




  digitalWrite

(

data5

,

 b 

&

 

(

1

 

<<

 

5

));




  digitalWrite

(

data6

,

 b 

&

 

(

1

 

<<

 

6

));




  digitalWrite

(

data7

,

 b 

&

 

(

1

 

<<

 

7

));




#endif




#ifdef USE_PORTS




  PORTC 

^=

 B00000001

;

 

// strobe LOW




  

while

(

PINC 

&

 B00000010

){

 

// Wait for ack




  

}




  PORTC 

|=

 B00000001

;

 

// strobe HIGH




#else




  digitalWrite

(

strobe

,

 LOW

);




  

while

(

digitalRead

(

ack

)

 

==

 HIGH

)

 

{




    

//wait for acknowledge




  

}




  digitalWrite

(

strobe

,

 HIGH

);




#endif




}



Page 254
void

 setup

()

 

{




  Serial

.

begin

(

115200

);




  DDRC 

|=

 

((

1

 

<<

 DDC1

)

 

|

 

(

1

 

<<

 DDC2

));

 

// A1 & A2 OUTPUT




  PORTC 

|=

 

((

1

 

<<

 PORTC0

)

 

|

 

(

1

 

<<

 PORTC2

));

 

//A0 PULLUP, A2 HIGH




}




void

 loop

()

 

{




  readByte

();




}




byte readByte

()

 

{




  PINC 

|=

 B00000010

;




  

while

(

PINC 

&

 B00000001

){




    PINC 

&=

 B00000100

;




  

}




  PINC 

|=

 B00000100

;




  byte b 

=

 

(

PINB 

<<

 

2

);




  b 

|=

 

(

PIND 

>>

 

6

);




  PORTC 

^=

 B00000010

;

 

// ack LOW




  delay

(

5

);

 

// hold ack LOW for a bit




  Serial

.

print

((

char

)

b

);




}